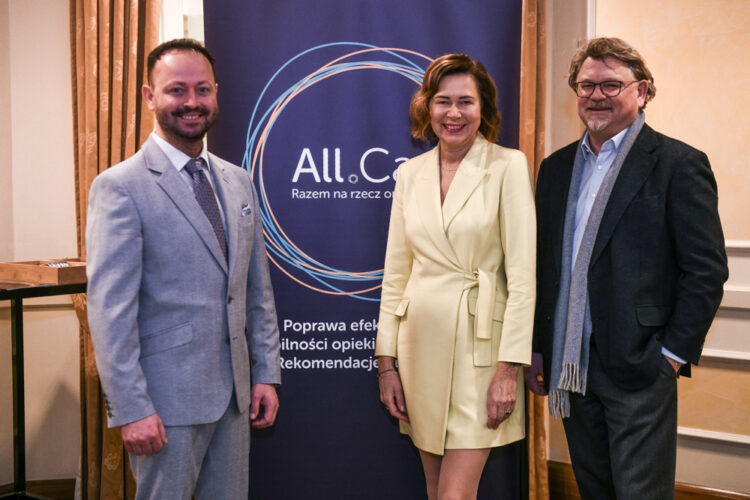 Annual meeting of All.Can Poland Steering Committee, 12.01.2023, Warsaw
Members of the All.Can Poland Steering Committe met on January 12th 2023 to summarize the activities of the Initiative in the past 2022 and set goals and areas that All.Can Poland plans to support in the new year. It was also an opportunity to present progress in the implementation of the National Oncology Strategy and the National Oncology Network. The meeting was organized in hybrid version – some members participated in it on-line.
The meeting was chaired by Elżbieta Łapot representing Bristol Myers Squibb, a member of the Presidium of All.Can Poland and the Chairman of the Presidium Szymon Chrostowski. The speakers were Eduardo Pisani, General Director of All.Can International, Professor Maciej Krzakowski, National Consultant in the field of clinical oncology, Professor Piotr Rutkowski, President of the Polish Oncology Society, Professor Adam Maciejczyk, Chairman of the Oncology Council at the Minister of Health, and Jacek representing Amgen Graliński, member of the Presidium of All.Can Poland.
Eduardo Pisani, Director General of the All.Can International, began the meeting by presenting the mission and vision of the Initiative and summarized the activities on the international arena in 2022. He expressed satisfaction from the fact that the group of national initiatives is getting bigger and numerous projects implemented by the organization both at the global and national level, All.Can is becoming a truly global community that works according to one strategy and pursues one goal – improving the effectiveness and stability of care for a person with cancer.
In the further part of the meeting, Szymon Chrostowski summarized the projects and activities carried out by the Initiative in Poland last year, including workshops devoted to tools supporting the improvement of the quality of oncological care, addressed to the staff of oncological hospitals. The participants of the meeting discussed the activities planned for 2023, including continuation of the project "Optimization of drug management in hospital conditions" and initiation of the new project "Improvement of access to molecular diagnostics in order to increase the effectiveness of oncological care". The latest report prepared by All.Can Poland experts "Diagnosis of changes in oncological care in 2022" was also presented.
During the meeting, the participants also had the opportunity to listen to the presentation of Professor Adam Maciejczyk, who discussed the activities related to the implementation of the National Oncology Network throughout the country in 2023, and Professor Piotr Rutkowski, who presented progress in the implementation of the National Oncology Strategy.